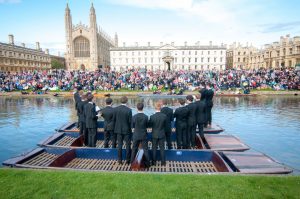 As a filmmaker or event organiser, the Summer months present a great opportunity to head outside and get creative.
Whether you're filming a music video, interviewing someone for television, or staging an event with audio systems to consider, working outside is not without its challenges. Therefore, as the temperatures rise and we head outdoors, we've put together 10 tips for organisers planning Summer events.
1) Make sure you hire a quality microphone.
Regardless of what type of outdoor event you are organising, being able to hear your subject is key. Microphones are one area in which you will not want to cut corners on quality – you will always want your subject(s) to sound clear and audible to everyone. Each type of event will have different requirements when it comes to microphones, so if in doubt, speak to an expert and get professional advice.
2) Check your speakers and the sound system is sufficient for the site/audience.
Again, the quality of your equipment is going to be key, but also you need to think about the coverage required. One speaker for a large area just won't work, and with outside conditions such as wind often influencing the effectiveness of sound systems, take the time to seek advice and make sure your event is properly covered by a strong speaker system with the right coverage.
3) You may still need lighting.
Despite being outside and potentially in the bright sunshine, lighting may still be needed for shoots and events. In planning, try to take the position of the sun into consideration to help manage your lighting coverage, but it's important to have some tools and equipment on standby on the day. Lighting can be used to illuminate the shadows or even create artistic effects around your subject.
4) Ensure your camera gear is suitable for the task at hand.
The camera gear you use for outside events may well differ from when you run the same event indoors. Think about whether or not you may need to hire an upgraded camera that is weather-sealed, just in case the heavens open during your event. Also, if the sunlight is strong, additional equipment such as Neutral Density (ND) filters may be required.
5) Backup audio equipment and audio visual support in case anything goes wrong.
Events are all about planning, often to a granular level of detail. Once you're happy with everything you have in place, such as speakers, microphones and lighting, it's worth taking some time to consider what you will do if one of these fails on the day. Perhaps hire secondary equipment in case, or consider bringing along your backup gear that may not be as good but will do the job if the worst happens. If you are working with a team like JMPS then its likley you have already discussed backup options. It's all about being prepared.
6) Have a 'Plan B' in case of bad weather.
If your event is going to be affected by the weather, then it goes without saying that having a backup plan in place is vital. If it's heavy wind and rain on the day of your event, what will you do? Carry on as you were, move it inside, or move to a different location? Perhaps you will need to use different equipment? Either way, have a Plan B so that there is no panic on the day.
7) Check power supply.
Amazingly, this tip is here because so many people forget to check how they will power their equipment until a few days before the event. If you're going to be using electrical equipment that requires power, then as far in advance as possible you need to be thinking about how to supply that power. Will you need a generator, or is there another way to extend the reach of a nearby outlet? Professional advice from experienced event organisers here can be priceless.
8) Make sure you can communicate.
Don't rely solely on mobile phones on the big day. Batteries can fail, they can fall out of pockets or if you're hosting large events, it may be difficult to communicate at certain times. Consider something a little more efficient and traditional, such as walkie-talkies. If each member of your team can clip one to their belt, then you know they are within reach at all times. If you're in a large area with hills or many obstructions, make sure your walkie-talkies have enough power to still communicate with one and other.
9) Check on permits and license requirements.
Particularly important when high levels of sound are being produced, make sure you check what licenses or permits you may need for your event far ahead of time. Application processes can be long and drawn-out.
10) Have security precautions in place for your equipment.
Last but not least, if you're working with a lot of high-value equipment, such as audio speakers and mics, then ensure you have security in place on the day to keep an eye on it. The last thing you need is for some expensive gear to get damaged or go missing!
If you need to hire equipment or you are looking for a team for your audio visual production then please get in contact to discuss your requirements with one of our team.