We are an experienced, professional and customer-focused company specialising in conference and event recordings, interviews, documentaries, promotional, time-lapse video & corporate video production in Cambridge, London and across the UK. We can also offer webcasting and streaming services at large events as well as video camera hire.
Event Recordings
Most presenters not only talk but use a variety of onscreen visuals to enhance their presentation. We can record your event with single or multiple video cameras, as well as the video feeds being sent to the projector from laptops and other media devices. We can then edit these two elements together side by side ready for delivery in a format of your choice.
Sound is another major element of the recording process. While recording we continuously monitor the audio signal to ensure we have a high quality audio product, supplying additional wired or wireless microphones where necessary.
Unlike most video production companies, we also offer audio visual hire and live event services so we can supply and control the additional equipment needed to get a high quality recording, for example, by ensuring areas are correctly lit and that all audio signals are compatible with our systems. Footage from events makes excellent promotional material. It can be used to communicate important messages to those who couldn't make the event and you can archive the day for future reference.
We can arrange back stage or green room interviews for your keynote presenters and testimonials from your delegates. While onsite there is also a variety of additional footage we can capture for you.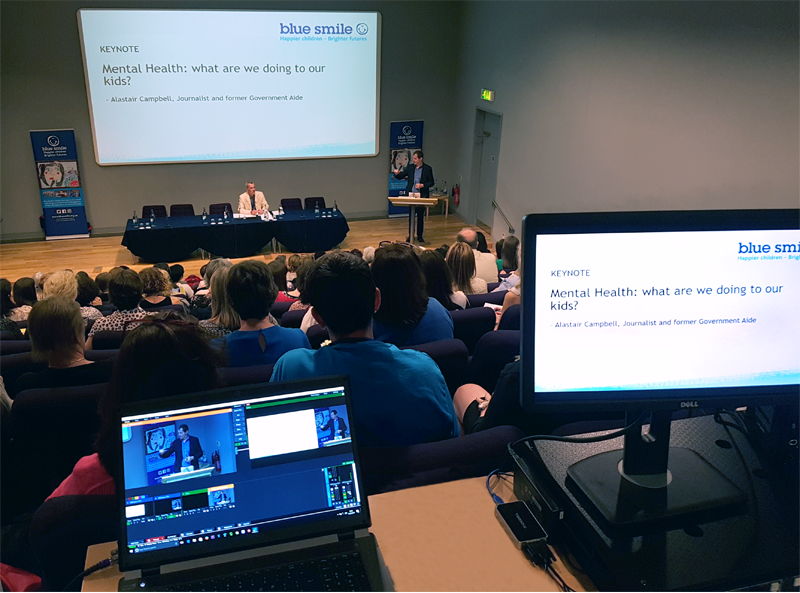 Webcasting
By vision mixing your event we can broadcast it live on the internet, the size of your audience is limitless. Webcasts can be simultaneously recorded to be made available on-demand following the event.
We broadcast your event easily & help your brand reach out to your audience. We can use multiple cameras and included powerpoint slides into the webinar too. Our services are bespoke, tailored to your exact requirements. Our rates are competative, whether working locally, throughout UK or in Europe.
Editing
Video editing is the process of compiling segments of motion video, special effects, titles and sound recordings altogether in the production process. We can supply this as part of the video recording project, on top of our video camera hire service or work with existing footage.
Interviews
Our professional video engineers are relaxed and patient when recording interviews, we have worked with a wide range of individuals from University students to CEO's of blue chip companies and they all require the correct environment to deliver the message exactly as it needs to be seen and heard, by listening closely and sharing our skills we can help transport this in a concise and effective way.
Corporate and Promotional
JMPS are skilled at creating corporate and promotional videos – valuable marketing tools for your organisation. As well as internal videos for training, archiving and company intranets.
Contact us regarding your Production and Video Camera Hire needs in Cambridge, London and across the UK.
Contact Us on +44 (0)1223 459 702